History
The practice of recording real estate documents is based on English law, which was brought to the New World by the colonists. Public land registrars were appointed in colonial America to keep accurate land records. A system of registration was necessary to prove who first made claims to property.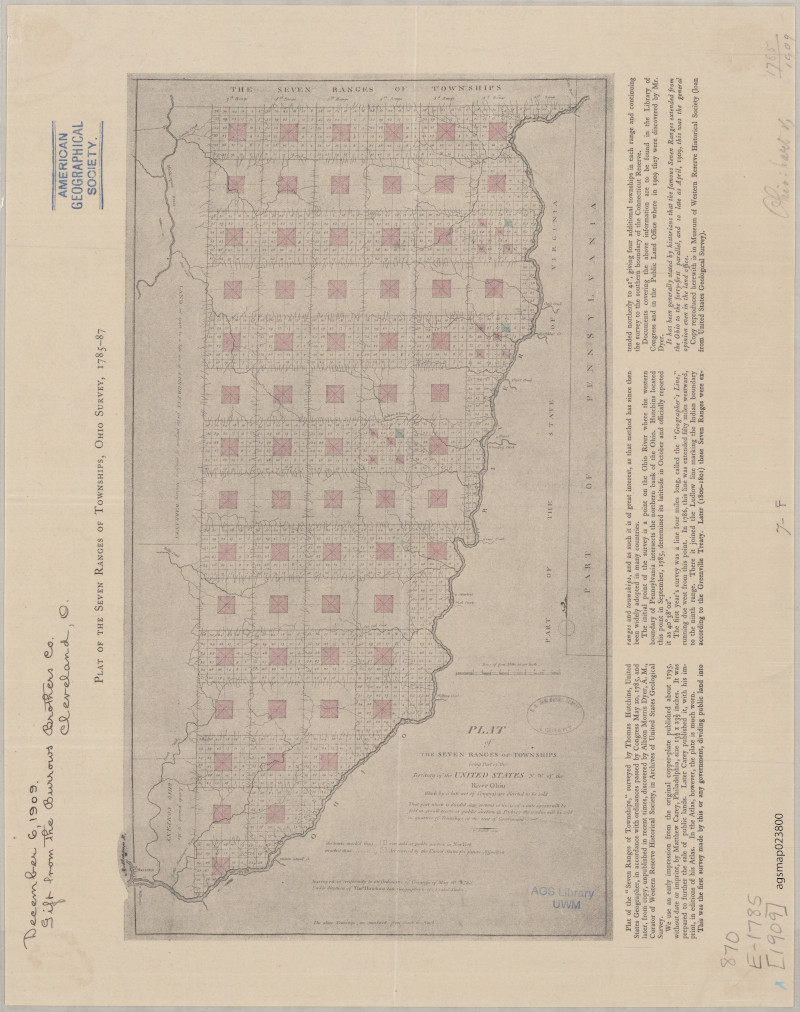 In 1787, the Northwest Territory was organized by the Continental Congress, paving the way for westward expansion and ultimately Ohio's statehood in 1803. The Land Ordinance of 1785, however, became the foundation of the American Land System, which led to the orderly survey, sale, and settlement of public lands in the country. The Ordinance established the rectangular survey as the primary means to initially subdivide public lands – with the first public survey being the Seven Ranges. This survey commenced with the Geographer's Line, a latitude traveling 42 miles west from near East Liverpool, encompassing an area of 84 complete or partial townships in eastern Ohio stretching along the Ohio River culminating near Marietta – including Belmont County. Belmont County was established September 7, 1801, assuming lands from Washington and Jefferson Counties – with the oldest recorded deed in present-day Colerain Township (Barton). Belmont County would ultimately take its present borders in 1813 after ceding lands to Guernsey and Monroe Counties, respectively.
Although the state constitution did not provide for a Recorder's office, the first state legislature mandated that a Recorder be appointed in each county by the Court of Common Pleas. Sterling Johnston was appointed as the first Recorder in 1804. The position became an elected three-year position in 1829, changed to a two-year term, and has been a four-year term since 1936. Documents were originally transcribed in the office by hand. Typewriters were used starting around 1900 with Photostat introduced in 1958 and Xerox in 1972. All Official Records are scanned today. In recent years, oil and gas exploration in the Marcellus and Utica Shale Formations has led to an increased use of the office's public records.
Past Recorders
| | | |
| --- | --- | --- |
| Name | Term | Party |
| Mary Catherine Nixon | 1997 – 2021 | Democrat |
| Stanley Simoncic | 1976 – 1997 | Democrat |
| Nick Munas | 1953 – 1976 | Democrat |
| Lawrence W. Purdy | 1949 – 1953 | Democrat |
| W. T. McCort | 1941 – 1949 | Democrat |
| Jesse A. Wilson | 1933 – 1941 | Democrat |
| A. A. Davis | 1927 – 1933 | Democrat |
| K. S. Fisher | 1925 – 1927 | Republican |
| C. Brady Bradfield | 1919 – 1925 | Republican |
| Arthur Stewart | 1915 – 1919 | Republican |
| E. E. Workman | 1911 – 1915 | Democrat |
| Samuel E. Lewis | 1907 – 1911 | Republican |
| John K. McFarland | 1902 – 1907 | Republican |
| A. S. Taylor | 1896 – 1902 | Republican |
| David S. Creamer | 1893 – 1896 | Democrat |
| John M. Beckett | 1887 – 1893 | Republican |
| William S. Hobbs | 1881 – 1887 | Republican |
| James A. Barnes | 1878 – 1881 | Republican |
| Louis G. Wright | 1878 (3 months) | Democrat |
| James A. Barnes | 1872 – 1878 | Republican |
| William S. Barnes | 1869 – 1871 | Democrat |
| John C. Bolon | 1866 – 1869 | Republican |
| John Bickham | 1863 – 1866 | Democrat |
| Felix Martin | ? – 1863 | Democrat |
| S. M. Howey | | Democrat |
| George Anderson | | |
| M. J. Ward | | |
| Robert Giffen | | |
| William Faris, Jr. | | |
| Peter Tallman | | |
| George S. Nagle | | |
| William Faris | | |
| Sterling Johnston | | |